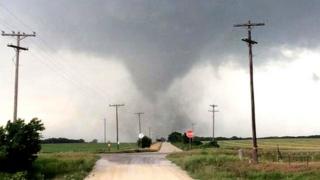 Tornadoes hit Texas in the US
Several tornadoes have torn through North Texas in the US, killing at least one person and destroying dozens of homes.
High winds have pulled down trees and power lines and caused flooding.
Tornadoes have also been reported in Kansas.
Weather experts say storms like these happen when freezing cold air hits a big area of warm, damp air.
Authorities in Texas are checking it's safe for people to return to their homes after the storms.