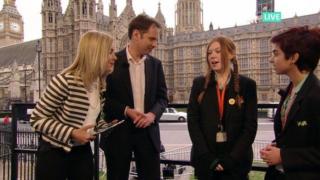 Kids' election questions answered
David Cameron will stay as Prime Minister after his party, the Conservatives, won the general election.
Before the results were announced, everybody thought it would be neck and neck between the Conservatives and the Labour party.
But a survey of voters called an exit poll suggested the Conservatives would win the election - an unexpected result.
Hayley took some kids to meet the BBC's political expert Ross Hawkins, so he could answer their questions.