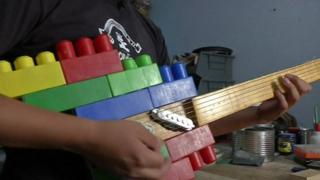 Band play instruments made of rubbish
A group of musicians in Mexico have made their own instruments using rubbish.
They're called the Garbage Orchestra and have made three albums.
The band couldn't afford to buy their own instruments and so decided to make their own.
Using rubbish and recycled materials such as bits of wood, vinyl and plastics bricks, they've made 25 instruments such as guitars and banjos.