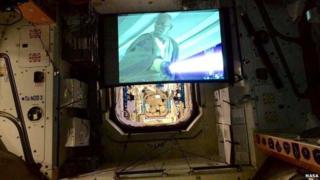 NASA
Astronauts have been watching Star Wars on board the International Space Station.
The ISS recently was fitted with a high-definition projector, which the astronauts use for special movie nights, as well as video conferences with space scientists back on earth.
It is isn't the first time they have watched movies in space.
Commander Scott Kelly and her team used the same kit last month to watch space disaster movie Gravity.