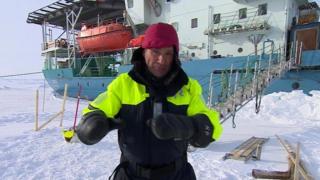 On board floating ice lab
The RV Lance is a floating laboratory which lets scientists monitor the environment.
It is currently visiting the waters of the Arctic where the temperature is -21 degrees Celsius.
Most of the experiments take place out on the ice. Scientists gather data on the state of the ice, the ocean below it and the air above.
It helps them build up a picture of how the region is changing.
Working out on the Arctic ice can be dangerous.
The scientists have to wrap up warm, keep on the lookout for polar bears and even check that the ice they're stood on isn't crumbling.
BBC reporter David Shukman visited the RV Lance and sent this report.