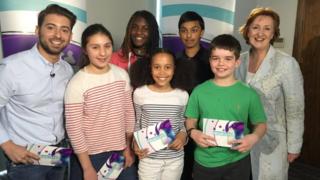 Newsround kids interview Suzanne Evans
In the run-up to the General Election on May 7, Newsround viewers have been sending in their questions in for each of the main party leaders.
Five children got the the chance to put their questions to Suzanne Evans, Deputy Chairman of the United Kingdom Independence Party (UKIP).
We did ask to put your questions to the UKIP Leader Nigel Farage but he wasn't able to speak to us.
Suzanne was asked about her party's policies on immigration, the EU, education and health.
She also talked about how upset she becomes when her party is 'mis-represented'.
She says it's ''not nice'' when other politicians say ''nasty'' things about the party.