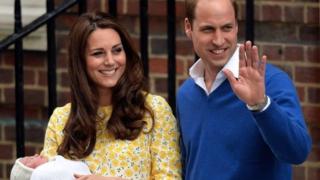 Latest on the royal baby
The Duke and Duchess of Cambridge are spending their first day with their new baby daughter at Kensington Palace.
The name of their second child - sister to Prince George - could be announced later and members of the Royal Family and the duchess's parents may visit.
The princess, who is fourth in line to the throne, was delivered at 8.34am on Saturday at St Mary's Hospital in London, and weighed 8lbs 3oz.
Leah has been outside Kensington Palace for Newsround with all the latest.