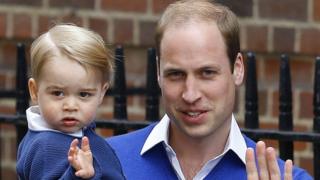 AP
The Duchess of Cambridge has given birth to a baby girl.
The new arrival was born at St Mary's Hospital where the duke and duchess's first child, Prince George, was born in July 2013.
The little princess will be fourth in line to the throne, behind her grandfather Prince Charles, father Prince William and big brother Prince George.
George is now a big brother and we asked you what makes a good sibling?
I am a big sister. My advice to George is be a loving, caring brother. Don't fight with your sister but care for her and be a good friend and older brother. Love her and look out for her. All older children have to look after their younger brothers or sisters so spend time with her and love her with all your heart.
Molly, Newcastle, Northern Ireland
My advice for George would be don't fight and look after her well.
Masie, Ipswich, England
I think that to be a good older brother or sister you need to look after them and let them do stuff that you don't particularly want to do.
Harry, Leicester, England
I have a little brother and you should be kind to your younger siblings.
Grace, Linlithgow, Scotland
I think a nice brother or sister is someone who is kind and nice and shares things with you. Also, someone who plays with you and has fun. And in an argument knows when to say sorry. My brother is 11. He's a nice brother because he's kind and doesn't call me names, we play games together and we laugh a lot.
Phoebe, Bucks, England
Little siblings love being played with. You should always help around the house and be especially GOOD! I've got two younger brothers so I know what it's like.
Ella, London, England
To be a good older sibling you have to be kind, caring, a bit bossy and not think it's all about you (especially when you're a triplet and you have two younger brothers like me).
Maddie, Jersey
I think George should respect her and teach her how to be part of the royal family.
Allysha, Southend-on-Sea, England
I think that to be a good sibling you need to be calm and fun and when you are older do not shout.
Annabel, Sheffield, England
To be a good brother you should be fun and patient. Be fun so your sister won't get bored. You need to be patient because if she ruins your stuff and you react she'll go and tell your mom and dad.
Emile, Belfast, Northern Ireland
You need to be kind to one another even though you are likely to disagree at some point.
Gracie, Worthing, England
Newborn children will always get all the attention, so remember that your parents love you the same.
Lucas, Barnsley, England