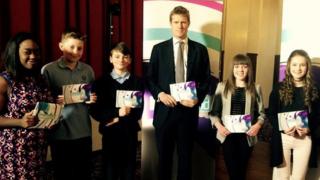 Newsround kids interview Tristram Hunt
In the run-up to the General Election on May 7, Newsround viewers have been sending their questions in for each of the main party leaders.
Four children from Dudley got the chance to put their questions to Tristram Hunt from the Labour Party.
We did ask to put your questions to the Labour leader Ed Miliband; but he wasn't able to speak to us.
Tristram talked about the difference between apprenticeships and university, whether the UK should reduce immigration and whether politicians can be trusted.
He also spoke about bad behaviour in the House of Commons.