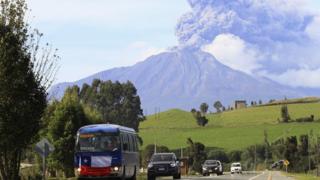 Chile's Calbuco volcano erupts again
A volcano in Chile, South America, has erupted for the third time in eight days.
The Calbuco volcano has thrown up huge clouds of dust and ash.
Government officials there have evacuated around 2,500 people who live near to the volcano.
Some of the people had only just returned to their houses after last week's eruption.
The volcano is one of the most active in Chile, but has lain quiet for more than four decades, until last week's eruption.
Authorities are keeping a close eye on it to make sure no-one is in danger.