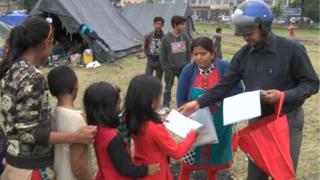 Life for kids in Nepal camps
Over a million children in Nepal are in urgent need of help according to charity Unicef.
Since the earthquake happened many people have lost their homes and are living in temporary camps.
Help and supplies from all over the world are being flown into the country in South Asia and Nepal's government says it's doing all it can to help.
However, water and food are in short supply and many children are not in school.
BBC reporter Yalda Hakim spoke to some children living in one of the camps in the capital city, Kathmandu.