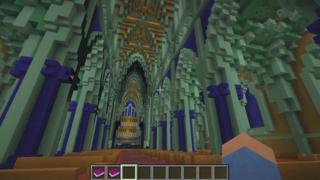 Why is Minecraft so popular?
With its endless building possibilities Minecraft has become a huge success worldwide since it was first launched in 2009.
Players use pixelated blocks to create detailed buildings and worlds as well as battling giant spiders and skeletons.
Minecraft became so popular techno giant Microsoft bought it from its original creators last year for £1.5 billion.
As of 2014, Minecraft has sold more than 54 million copies for computers, consoles, and mobile devices.
We have been asking you why you think it is so popular.