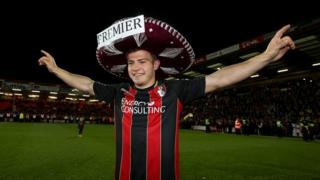 Kids react to Bournemouth promotion
Bournemouth football club has the Premier League in its sights after thrashing Bolton FC 3-0 in their latest match.
The win puts Bournemouth three points and 19 goals ahead of Middlesbrough in the top two of the Championship table.
Fans are especially excited because six years ago the club almost went out of business, before being saved at the last minute by chairman Jeff Mostyn.
Since then the club has been promoted from League Two, to League One, to the Championship in 2013.
Unless the club loses 19-0 against Charlton Athletic FC on Saturday, they should go through to play in the Premier League in the 2015/16 season.
We spoke to some young Bournemouth FC fans to see how they are feeling about the news...