The US city of Baltimore is in a state of emergency after violent protests and riots have erupted there.
A week-long curfew has been announced, meaning people have to stay inside after dark, and many schools there are closed on Tuesday.
As many as 5,000 National Guard troops have been brought in to patrol the city's streets.
On Monday night, bottles and stones were thrown at police, shops were robbed, cars and buildings set on fire.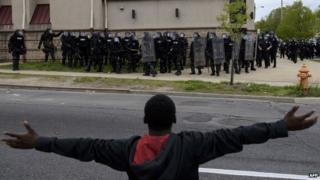 AFP
Why are people protesting?
Protests broke out on Monday after the funeral of a 25-year-old black man called Freddie Gray.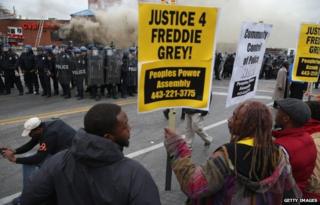 Getty Images
He died in hospital on 19 April from spinal injuries, a week after police took him into custody.
The justice department there is investigating exactly how Freddie was injured and officials have suspended six police officers who were involved.
But Monday's protests turned violent as people began to clash with the police.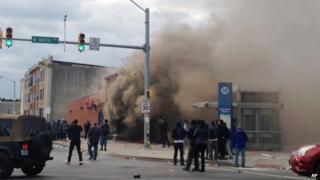 AP
Baltimore Mayor Stephanie Rawlings-Blake said there was a big difference between the "peaceful protests of those who seek justice" and the "thugs who want to incite violence".
Many people there are angry about the way black people are treated by police in the United States.
Freddie Gray's death is the latest in a string of cases in the US where black men have died after contact with the police.
Nationwide protests followed the killing of unarmed black teenager Michael Brown by a white police officer in Ferguson, Missouri, last year.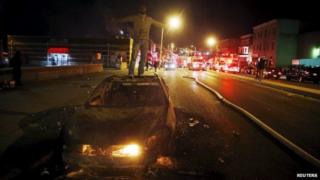 Reuters
If anything in the news upsets you there's help and advice in our guide