The search is still on for survivors after a massive earthquake hit the country of Nepal in South Asia on Saturday.
Nearly 2,000 people have been confirmed killed in the country's worst earthquake in more than 80 years.
The quake had a magnitude of 7.8 and tremors were felt in nearby Pakistan, Bangladesh and India.
Many countries and charities from around the world have offered help to Nepal to deal with the disaster.
Advice if you're upset by the news
The quake struck central Nepal at around midday on Saturday, between the capital city Kathmandu and the city of Pokhara.
Lots of people in the areas affected slept outside overnight, either because their homes were destroyed or because they were worried about aftershocks from the quake.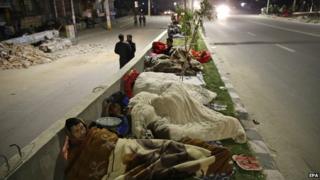 EPA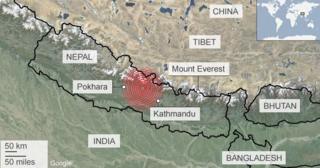 Seventeen people also lost their lives on Mount Everest by avalanches triggered by the earthquake.
The world's tallest mountain, Everest, is very busy with climbers at this time of year.
Many were injured as well and have been flown away by helicopter to get medical attention.
International help
The UK is sending a team of experts to help Nepal deal with what has happened.
Their priority is to reach people who are trapped and injured, and provide shelter and protection to those who have lost their homes.
Why is it dangerous after a quake?
Many countries, including America, Pakistan, China and India, have promised aid like food supplies, tents, doctors and search and rescue helicopters.
The search continues to find survivors from the earthquake, but rescue efforts have been made harder because many mountain roads are cracked or blocked by landslides and rubble.
It's also meant access to remote areas is difficult.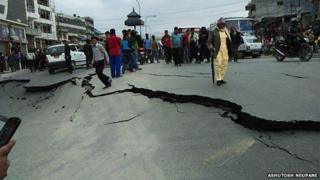 Ashutosh Neupane