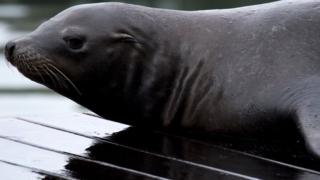 California's sea lion problem
Messy and smelly sea lions have outstayed their welcome in Redondo Beach, California, so the city's making them a new hang-out.
The creatures have been heading to the American city for a over a year now because it's a good resting spot to feed themselves and their pups.
Although locals seem to understand why the sea lions are there, not everyone is happy about the mess and smell that they bring along too.
So the city's going to build a huge barge where the animals can go to instead.
It will be big enough for about 120 sea lions and will be away from people and the marina.
Check out the city's plan for the sea lions and why they've outstayed their welcome...