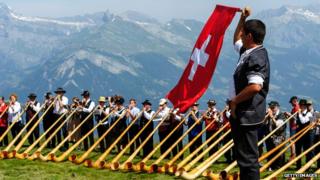 Getty Images
Switzerland has been named the world's happiest place in a new report.
The Sustainable Development Solutions Network looked at things like health and how much freedom people have in a country.
Switzerland came out on top. The country is famous for its clocks, cheese and chocolates.
Thanks for your comments, this chat page is now closed.
What you think
What I like about my country is that there are lots of famous buildings to see and lots of interesting museums.
Jessica, London, England
I love where I live. There are so many places to play, on the moors, through the fields, in the woods and by the stream. Although I love going on holiday, I'm always glad to get back home!
Finty, Lancashire, England
I live in York and it's really beautiful and historic and has some great shops!
Beth, York, England
I like were I live because everyone gets along well.
Ben, Newcastle, England