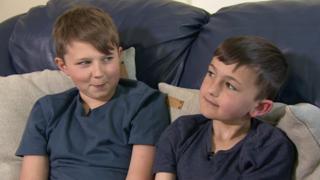 Charlie bit finger kids talk Minecraft
The stars of one of the most viral videos in internet history have been talking to Newsround about Minecraft, and how much time they spend online.
Charlie and Harry became famous when their dad uploaded a video of them that became known as 'Charlie bit my finger.'
It's racked up more than 815 million views on YouTube and
But they teased him about his knowledge of the online game and showed they're not too old to stop winding each other up.