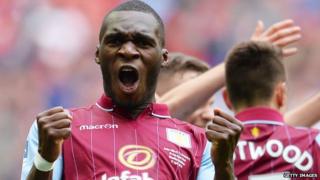 Getty Images
Aston Villa are heading to their first FA Cup final in 15 seasons thanks to a 2-1 semi-final win over Liverpool on Sunday.
On 30 May they will face Arsenal, who have already beaten them 3-0 and 5-0 this season and are 13 places above them in the Premier League table.
Villa boss Tim Sherwood says all the pressure will be on Arsenal as they're the current cup holders and Villa are the "underdogs". Villa are currently 15th in the league table and just four points above the relegation zone.
"For now we have to put the final on the backburner," says Sherwood, "there is a lot of hard work between now and that game. It'll be a great occasion for the football club but nothing is won yet."