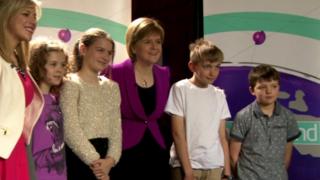 Kids test SNP leader Nicola Sturgeon
In the run-up to the General Election on May 7, Newsround viewers have been sending their questions in for each of the main party leaders.
Four viewers from Glasgow got the chance to put questions to SNP leader Nicola Sturgeon.
They tested her on subjects like why the SNP wants more power in Westminster; whether the SNP wants another referendum on Scottish independence; and the challenges facing women in politics today.
Ms Sturgeon also had to answer the question: why do politicians sometimes dodge questions in interviews?