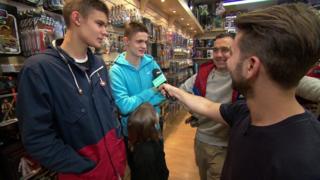 Star Wars fans feel force fever
Star Wars fans have been given a sneak peek of Han Solo in the next movie - The Force Awakens, with a new trailer released today.
Fans around the world have been getting very excited ahead of the movie's release, just before Christmas 2015.
The trailer was shown at an official fan convention in California and has also been released online.
Han Solo the space smuggler, played by Harrison Ford, last appeared in a Star Wars film more than 30 years ago when Return of the Jedi was released.
The official trailer follows a teaser that was released in November last year.
Watch Ricky's report to find out more.