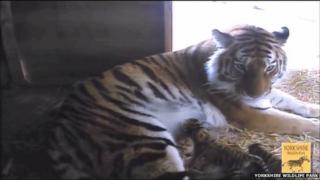 Amazing film of newborn tiger cubs
The birth of endangered Siberian tiger cubs has been captured on film.
Four-year-old Tschuna had three cubs on 29 March at the Yorkshire Wildlife Park.
A spokeswoman at the zoo said they would stay out of public view for the next few weeks in their "cubbing house", but more clips will be released as the animals grow.
Siberian tigers are the world's largest cats but they're at risk of extinction as a result of poaching and their habitat being destroyed.
Estimates suggest that there are only 350 of the creatures left in the wild.