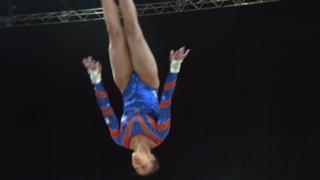 Downie sets gymnastics personal best
Claudia Fragapane and Ellie Downie both qualified for the all-around final at the European Gymnastics Championships in Montpellier, France.
Great Britain have a maximum two athletes in all five finals with Becky Downie and Amy Tinkler also qualifying for medal events.
"It's my best all-around score ever so I'm over the moon," Ellie Downie told the BBC.
"There's no way I was expecting that."
She added: "It was a bit up and down before coming here but I'm really happy."
Downie scored 56.19 to qualify in third while multiple Commonwealth champion Fragapane was fifth with 55.031.
Fragapane, who won four gold medals at last summer's Commonwealth Games, would have scored higher if not for errors on floor and uneven bars.
"I'm quite happy overall and just hoping when it comes to the finals I'll do even better," said Fragapane.
"I've definitely got more to give. All my stuff can be much cleaner. I'm going to get back into training tomorrow and try to fix those mistakes."
Individual apparatus finals take place over Saturday and Sunday.