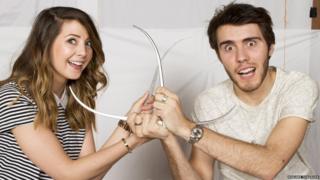 Madame tussauds
You know you've hit the big time and are famous when you get your own waxwork at Madame Tussauds.
YouTube stars Zoella and Alfie Deyes are having wax doubles made.
It will show them lounging on a bed uploading videos in a mock-up of their spare bedroom in their Brighton flat.
They'll be on display in London later this year.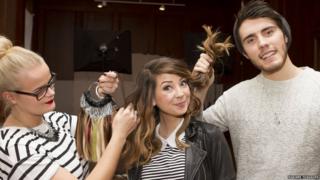 Madame tussauds
Zoella and Alfie tweeted about their excitement.
"So @PointlessBlog & I have been asked to be made into wax figures for Madame Tussaudes! BEYOND EXCITED. Such a cool opportunity :)"
Alfie wrote on Twitter: "ZOE & I ARE GOING TO BE WAX FIGURES IN MADAME TUSSAUDS!!"
The pair had their first sitting for sculptors on Monday.
In the four-hour meeting, they agreed to donate their own clothes for their waxworks to wear.
Zoella's main YouTube channel has more than seven million subscribers, while Alfie's PointlessBlog channel has just under four million.
In December, Zoella's first book Girl Online became the fastest selling debut novel after shifting more than 78,000 copies in the first week.