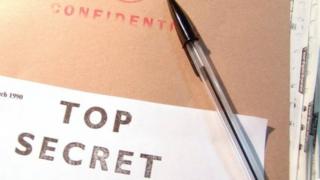 Meet the Project Petra candidates
The three candidates who will become Blue Peter's CBBC Intelligence Officers have been revealed.
They are Jamie from Glasgow (13), Reuben from North Yorkshire (13) and Finley from Surrey (10).
Their first mission was to visit MI5's headquarters at Thames House in London in March.
They were shown spy gadgets, some of which date from World War ll.
The Project Petra also had the chance to meet the Director General of MI5, Andrew Parker.
Blue Peter cameras were given exclusive access to follow their visit.
It's the first time that any TV cameras have ever been allowed to film inside the building.
You can see more on their visit, tonight on Blue Peter at 5pm - and Blue Peter's final Project Petra episode will be shown on Thursday 16 April at 5pm on CBBC.