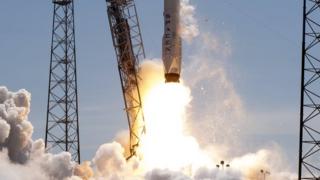 Coffee machine sent into space
A specially designed Italian coffee machine is on its way to six astronauts at the International Space Station.
The machine was built to operate in zero gravity for the Italian astronaut Samantha Cristoforetti who likes a coffee.
Astronauts will have to drink the coffee in a bag through a straw to stop it floating around.
The SpaceX Dragon capsule, carrying lots of supplies and groceries, was launched into space from a rocket in Florida on Tuesday.
The private company hopes to send more regular cargo capsules to the International Space Station in future and longer term, hopes to lower launch costs.
The supplies are expected to reach the ISS on Friday.
The coffee is just one way to try to keep the astronauts happy. Chris Hadfield had his guitar.
SpaceX are the only private company ever to return a spacecraft from low-Earth orbit
They are funded with money from private investment by big companies like Google and also get money from sponsorship deals.