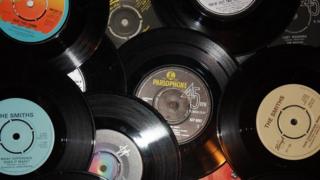 Why is vinyl revival happening?
The UK's first official vinyl chart launches this week as sales of old fashioned records continue to rise. But what is a vinyl record?
They were one of the earliest ways of recording and listening to music and were really popular in the 1960s and 70s.
However, the number of people buying vinyl started to drop when other ways of listening to music, like CDs, MP3s and streaming, were invented.
Now sales of vinyl have reached their highest point in 18 years and that's prompted the Official Charts Company to launch a weekly vinyl chart.
So, Ricky's been to find out what kids make of the old black records and why they're on the way back.