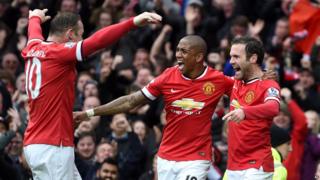 AP
Manchester United beat Manchester City 4-2 in the local derby at Old Trafford.
City striker, Sergio Aguero, opened the scoring giving Man City an early lead.
But United replied quickly with Ashley Young getting the equaliser and setting up the second for Marianne Fellaini to end the first half 2-1.
It was all down hill from there for City, conceding another two goals, with Juan Mata and Chris Smalling hitting the back of the net for the Red Devils.
Aguero nicked a late goal back to give City some hope but the game finished 4-2 and means City stay fourth in the table while United keep up there outside chance of winning the title by staying in third.
United boss Louis Van Gaal, dedicated the big derby win to the fans.