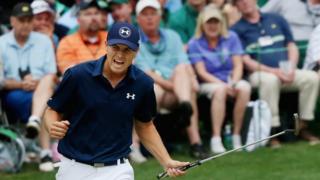 Jordan Spieth wins Masters
Jordan Spieth has become the second-youngest winner of the Masters - one of the biggest golf competitions in the world.
The 21-year-old American equalled the lowest total ever recorded in the tournament's history.
Spieth shot a two-under 70 to triumph on 18 under.
England's Justin Rose hit 70 to finish 14 under, joint second with three-time champion Phil Mickelson who ended runner-up in a major for the 10th time.
World number one Rory McIlroy tied for fourth on 12 under after a 66.
Spieth said he's looking forward to taking on Rory McIlroy again after his win.
"He's got four majors, something I can only dream about," said Spieth, who finished six shots clear of McIlroy.
"I look forward to getting in the heat of the moment with him a few more times in the near future."