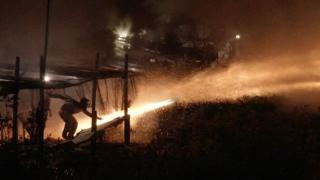 Greek island marks Easter with rockets
Around 200 million Orthodox Christians are celebrating Easter this weekend, with messages of peace and prayers to end violence and terrorism echoed in services around the world.
Orthodox traditions vary across the world and in one Greek village the occasion was marked in spectacular style.
Hundreds of fireworks were let off on the Greek island of Chios between two church towers to celebrate the end of the Easter holidays.
People watched from behind thick wire to keep them safe.
Please do not try this at home.