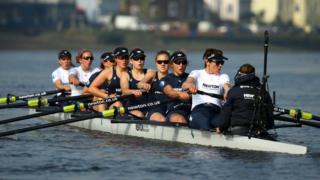 Getty Images
It's the world famous university Boat Race today and it's a very special year for the women's teams.
For the first time the women's race will take place on the same day and on the same stretch of the River Thames as the men's race.
It's also the first time the women's race will be broadcast live on TV, just like the men's race is.
Hundreds of thousands of people will be on the banks of the Thames cheering them on, and loads more watch on TV.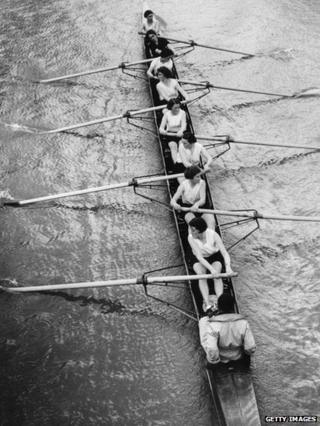 Getty Images
What is the university Boat Race?
It's a competition between the rowing teams of the UK's two oldest universities, Oxford and Cambridge.
It's held on the River Thames in London and the course is 4.2 miles.
The first race, with only men's teams taking part, was in 1829 and it's been held every year since 1856, except during the First and Second World Wars.
The first women's race was in 1927, but used to be rowed on rivers in Oxford or Cambridge.
Rivalry
It's a big point of rivalry for the two universities, but Cambridge are on top.
In the men's race Cambridge have won 81 times and Oxford 78. In the women's race Cambridge have won 41 times and Oxford 28.