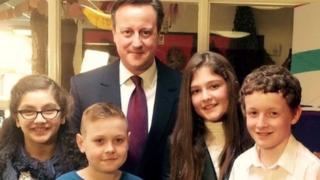 Kids pose questions to David Cameron
Newsround took some Year 7 school children to meet Prime Minister and Conservative leader David Cameron ahead of the General Election.
Mr Cameron answered their questions on topics such as immigration, what it's like to be PM, and how much it now costs to go to university.
Ayshah also quizzed him on the noisy behaviour of MPs in Prime Minister's Questions - which many Newsround viewers have commented on in the past.
But one girl asked a question that left Mr Cameron stumped: if you could pick one politician apart from yourself, to win - who would it be, and why?