High levels of air pollution are expected across parts of the UK today, in particular in the South East and eastern England.
Warm, still conditions combined with traffic fumes, pollution from Europe, and dust from the Sahara in Africa to create the problem.
The government has issued a warning over the levels of pollution.
On a pollution scale of 1-10, a level 10 is likely in some parts - the highest level of air pollution.
Weather experts said that while no regions have reached the highest level of air pollution so far, six regions hit a level of pollution up to level 9.
These are eastern England, south-east England, Greater London, West Midlands, East Midlands, and Yorkshire and Humberside.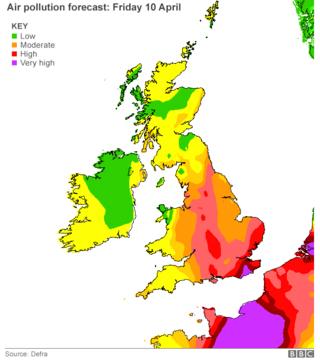 The elderly and those who have lung problems have been told to avoid doing heavy exercise outside.
However, the pollution will be brief and levels will drop lower by the weekend.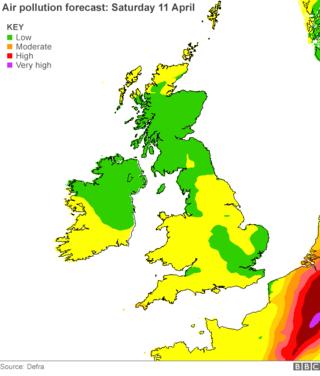 Has the pollution affected you? In what way? What are you doing about it?
Send your comments, pictures and videos to newsroundcomments@bbc.co.uk
Include a telephone number

- we can't use your photo without it.

Never put yourself at risk to take a photo.

Make sure your file is smaller than 10MB.
You must ask your parent, teacher or guardian for permission before you send us a picture or video.
We may show your picture or video on our website or in our TV bulletins. We'll show your first name and which town you're from - but we won't use your details for anything else.