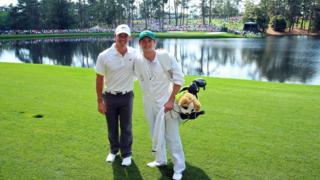 Niall 'honoured' to carry Rory's bag
One Direction's Niall Horan has appeared at one of the most famous golf tournaments in the world... to carry golfer Rory McIlroy's bag.
The singer said it was an 'honour' to carry his fellow countryman's golfing gear.
Mcllroy is favourite to win the US Masters, which starts on Thursday, but before that the players had a friendly tournament.
Players often get friends to carry their bags - and Rory asked Niall.
Niall is known to be a big golf fan and is a member of a club in Ireland.