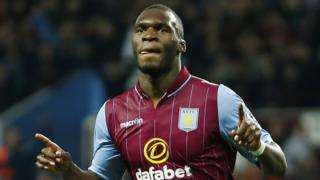 Getty Images
It's not certain, but at the top of the Premier League it looks like the title is making its way to Chelsea.
But down at the bottom - absolutely nothing is certain.
In fact, with Aston Villa and QPR drawing 3-3 in their Premier League showdown, the battle to stay in the Premier league is super close.
So with all eyes on the wrong end of the table, here's our guide to who is battling it out to beat the drop.
Sunderland (15th in the league, 29 points)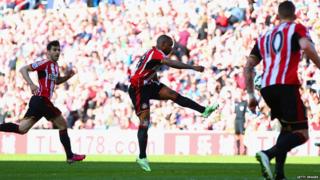 Getty Images
A couple of weeks ago, things were looking bleak for Sunderland.
But then manager Gus Poyet was sacked and replaced by Dick Advocaat - and things started to look up.
Then when Jermaine Defoe scored his brilliant goal to beat Newcastle at the weekend, Sunderland fans suddenly became very happy with their chances of staying up.
With 7 games left to play, and a home game against bottom of the table Leicester amongst them, Sunderland should have the players and the form to keep them up.
Aston Villa (16th, 29 points)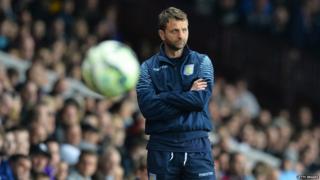 Getty Images
Many people think Aston Villa are too big a club to worry about relegation - but after a season of dreadful football, they are down there.
Tim Sherwood came in as manager in February to try and turn things around - and so far, hasn't really managed to do that.
But then goal machine Christian Benteke banged in three goals against QPR, and with that sort of goal scoring in the team they should have enough to keep them safe.
Out of their 6 remaining games, could their last of the season against Burnley be the decider?
Hull City (17th, 28 points)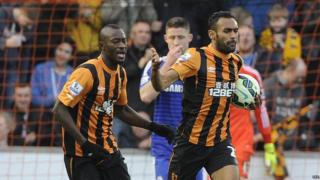 EPA
Hull were comfortable and cruising halfway through the season, but then a dreadful run of form means they're suddenly in danger.
They have the players for a good Premier League side, but have had some bad luck with injuries.
Most worryingly of all for Steve Bruce's side is their last 7 games are easily the toughest of their rivals.
They have to play Arsenal, Manchester United and Liverpool - so things could get tough.
QPR (18th, 26 points)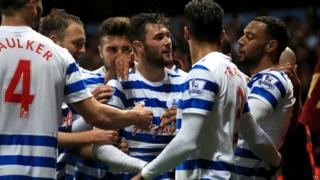 PA
QPR were looking like they were already relegated a month ago.
But then they beat West Brom at the weekend, and drew with Aston Villa and suddenly everything is wide open again.
Their defence has been dreadful, but they've scored seven goals in the last two games.
They've only got 6 left to play and they include Chelsea, Liverpool and Manchester - but if they carry on scoring at that rate, they stand an chance.
Burnley (19th, 26 points)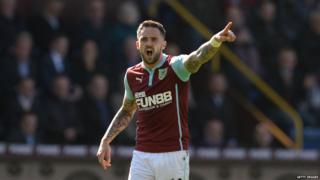 Getty Images
At the start of the season, not many people gave Burnley a chance of staying up.
But, even though they're second bottom, they're still only two points from safety.
What will concern manager Sean Dyche though is that all the other teams around them seem to be hitting form.
They will have to cause some upsets in their last 7 games if they want to play in the Premier League next season.
Leicester City (20th, 22 points)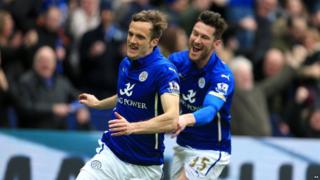 PA
Rock bottom and 6 points from safety, Leicester face the toughest task to try and avoid going down.
BUT having beaten West Ham in their last match - things could be looking up.
The team that has beaten Manchester United this season has some good players, and has plenty of goals in them.
They've also got 8 games left, more than any other team at the bottom.