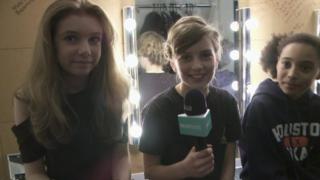 Behind the scenes at Bugsy Malone
Bugsy Malone is the classic tale of gangsters in New York with an all child cast that has has been performed in schools and theatres all over the world.
The show hasn't been performed in the UK for over ten years and now it is back!
So Newsround just had to have a sneak peek behind the scenes - and who better to show us than some of the stars of the new Bugsy Malone show.
Cast members Zoe, Thea and Eleanor showed Newsround around.