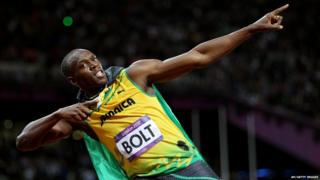 AP/Getty Images
Speed demon Usain Bolt has stepped up his training in an attempt to defend his 100 metre and 200 metre titles at this year's World Championships.
Bolt only ran three times last year while America's Justin Gatlin dominated the sprint scene.
But Usain's coach says he's back in training and hoping to run faster than ever when the Championships start in Beijing, China, in August.
Coach Glen Mills said: "Usain's made significant strides since the last time you saw him.
"We take all competitors with a level of seriousness, but the truth of the matter is Usain, at his best, doesn't have much to worry about."