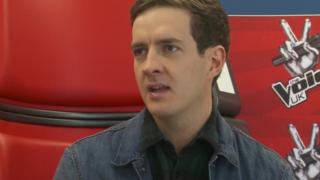 'I'd duet with Ed Sheeran'
The newly crowned winner of The Voice has told Newsround he'd love to duet with Ed Sheeran in the future.
Stevie McCrorie won the TV talent show on Saturday night and immediately went to the top of the online charts with his winners' single Lost Stars.
And, despite telling Newsround he has no plans to become a superstar, he did say that teaming up with man of the moment Ed Sheeran, would be a dream come true.
Check out Ricky's interview with Stevie...