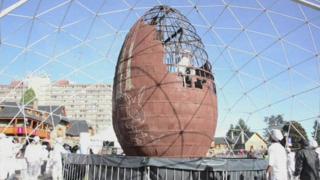 Easter egg record cracked
If you aren't sick of the sight of chocolate eggs after Easter - this is the video clip for you.
It's the world's largest handmade Easter egg, which has just been put together in Argentina.
Standing eight and a half metres tall, it measured about the same as two double decker buses.
50,000 people turned up to see it, after about 8,000kg of chocolate was used to make the massive sweet treat.