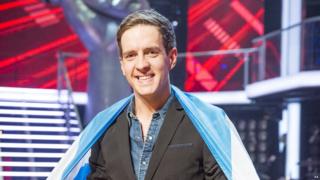 PA
Last week, Stevie McCrorie was a fireman from Scotland.
But now everything has changed for the 29-year-old, after he was crowned the winner of The Voice.
He beat opera singer Lucy O'Byrne in the final on Saturday night in front of a TV audience of 6.3 million people.
For the first time, his first song Lost Star was released straight after the final and went straight to number one in the chart.
And we're going to interview him - but we need your questions.
Would you like to know what it's like to perform on such a big stage? What happens now? How does he deal with nerves?
You can ask anything.
Thanks for your questions, this page is now closed.