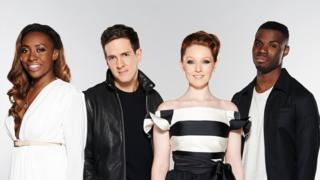 PA
The latest series of The Voice ends on Saturday, with four contenders hoping to be crowned champion in the grand final.
The finalists - Emmanuel Nwamadi, Lucy O'Byrne, Sasha Simone and Stevie McCrorie will all take to the stage this evening hoping to win the title and a shot at topping the charts.
Former judge Danny O'Donoghue will return to the show to perform with his band The Script and the artist of the moment, Paloma Faith, will make an appearance.
The four contenders have already recorded their own versions of the winning single, but viewers' votes will decide whose is released after they are declared the winner.
This year's winning track, which will be available from midnight, is a cover of Lost Stars, which was originally by Maroon 5 singer Adam Levine.
The Voice LIVE final is on Saturday 4 April at 7pm.
But who do you want to win The Voice?
Your comments
I think Sasha should win because she has a powerful and beautiful voice. If Sasha doesn't win I would like Stevie.
Annabel, Dronfield, England
I think Stevie will win because he sings from the heart and really means it when he does sing. I love The Voice and I will be very sad when it ends, but I have enjoyed it and cant wait until next January! I think Lucy will get her job in the West End, and the others will become well-known artists. I think Stevie will have to compete with Sasha; she has sailed through the competition! #TeamRicky
Natasha, England
I've absolutely LOVED this series of The Voice! Rita Ora was already one of my favourite singers and Tom's a legend, will.i.am is DOPE and Ricky is very good. I think Lucy is bound to win, every time she sings I kind of feel like I'm in a Disney film. It's a shame that neither of Rita's boys got through, but it went okay because it meant a bunch of great people went through! Team Will for the win!
Grace, Sheffield, England
I think all the finalists will go on to be famous.
Amy, Cornwall, England
I think Emmanuel will win because he has good harmony and a brilliant voice.
Poppy, Essex, England
I think Emmanuel will win because he has the best coach and he has a wonderful singing voice.
Lewis, Coventry, England
I hope Ricky's team wins because he is my favourite coach and I think Stevie totally deserves to win! I have loved this series and I hope all the same coaches are back next year!
Tasha, United Kingdom
This chat page is now closed. Thanks for sending us all your comments.