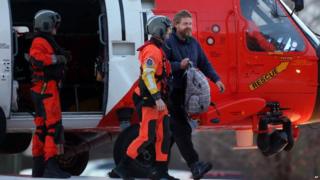 AP
A sailor who was lost at sea has been rescued after two months.
Louis Jordan, who's 37, apparently survived on raw fish and rainwater and was found 200 miles off the North Carolina coast.
A passing German container ship spotted him sitting on the hull of his ship, which had overturned.
The US Coast Guard then airlifted him from the German ship to hospital, where he's now recovering.
They said such a tale of endurance was unheard of, but Louis' Dad said he'd never given up hope his son would be found alive.