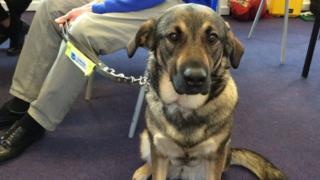 What's it like to have a guide dog?
Adam is 12 years old and loves maths and cricket. He is also visually impaired meaning he can't see very well.
He currently uses a cane to help him to get from class to class at school but has been thinking about getting a guide dog to help him get around more easily.
School Reporter Adam, and his twin sister Huma, spoke to the Guide Dogs association for BBC School Report to find out a bit more about what it is like to have one, and how it could help him.
There are nearly 4,800 guide dog owners in the UK of which around 70 are children.