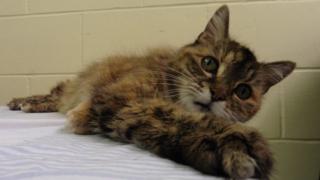 'Loudest purr in world' cat finds home
A homeless cat who couldn't find an owner because of her really loud purr has been taken in after a rescue centre released a film of her.
Bluey, who's 12, was described as sounding like a tractor by rescue workers who claimed her purr was four times louder than the average cat.
She was taken in by by a shelter in Cambridge on 9 March after her elderly owner was taken into hospital.
But having "possibly the loudest purr in the world" was putting off potential owners, staff said.
Centre manger Alan Maskell said: "A man who came to see her on Saturday just said, 'Oh no, that's much too loud'."
A member of staff who used a phone app to measure Bluey's purr said it registered at 93dB, which, if accurate, is about four times louder than a typical purr.
A woman who saw the charity's film was not put off by the noise and adopted the cat on Wednesday. Bluey will go to her new home on Friday.