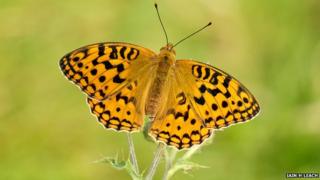 Iain H Leach
Good news for butterflies - the warm weather at the start of last year boosted their numbers.
A study by Butterfly Conservation and the Centre for Ecology and Hydrology looked at 56 different types of butterflies and found that numbers of 32 types were on the up.
Around 100,000 more butterflies were counted across the UK than in the previous year.
This was due to both the warm, wet spring, which was good for emerging caterpillars, and wildlife-friendly farming schemes to restore the woodland and moorland slopes where it breeds, said Butterfly Conservation.
But lots of species did have a drop in their numbers too. Butterflies that emerge in high summer struggled in the colder August weather, including the Chalk Hill Blue, Adonis Blue and the two "cabbage white" species.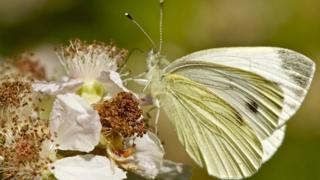 Tony Cox
High Brown Fritillary
It was good for species like the High Brown Fritillary.
They were was once found in lots of places across England and Wales, but now they're down to a single colony in Wales and around Morecambe Bay and on Dartmoor in England.
Dr Tom Brereton from Butterfly Conservation said: "The High Brown Fritillary is one of only two butterflies classed as critically endangered in the UK so it is fantastic news that numbers are at their highest level for more than a decade."