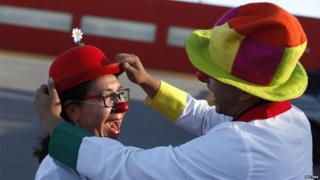 Reuters
Today is April Fools' Day, an event which takes place every year on April 1 when people play practical jokes on each other.
In the UK and some other countries, people are traditionally only allowed to play jokes on others until midday, but in some other places like America, the jokes can go on all day.
In France if you become fooled on the April 1 you get called a poisson d'avril - which means April fish!
TV stations, newspapers and even some companies often join in on the fun.
Here are a selection of some of the top April Fools pranks we've seen today...
Ant and Dec's 'new' co-presenter
The Radio Times magazine played a joke on its readers by suggesting that TV presenters Ant and Dec would be accompanied by a new presenter.
It joked that Anton Du Beke from Strictly Come Dancing, would be joining the duo from now on, to create: Ant and Dec and Anton Du Beke.
What a tongue-twister that would be!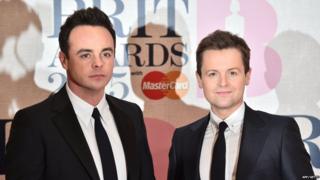 AFP/Getty
Trampoline aisles
Ever struggled to reach the top shelf in your local shop?
Tesco supermarkets said they are building trampolines in their shops, to help people to reach items on the top shelf.
A supermarket spokesperson said: "Introducing bouncy aisles is both a practical and fun solution to help our customers reach products on the top shelves, as well as speed up their shopping trip."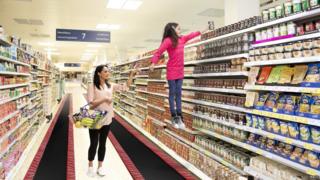 TESCO
Lion for adoption
Battersea Cats and Dogs Home said they have rescued a cat that might be a bit more at home in the African Savannah...
They claimed to have rescued a lion, which they called April (spot the clue there), that they found wandering around in London.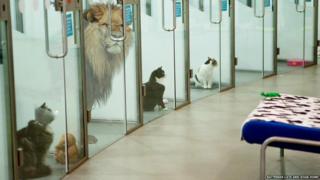 Battersea Cats and Dogs Home
The "smart" party blower
Google Japan have come up with a brilliant prank this April Fools' Day, by inventing a party blower that can text!
Called the "keyless keyboard" inventors say it is for times when you need to contact someone, but your hands aren't free.
Users can supposedly write messages by blowing on the party blower, depending on how hard people blown into it, and these signals are sent to your mobile device using bluetooth technology. Hmmm.
Selfie shoes
A shoe-maker based in New York joined in the fun this April Fools' by saying they had created shoes with a docking port for your phone, allowing you to take selfies with your feet!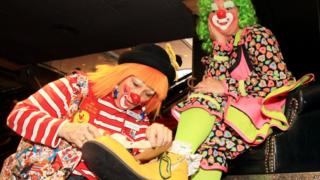 AP
Simon Cowell on banknotes
The Sun newspaper pranked its readers today by suggesting that Simon Cowell would be the new face on the back of British five pound notes!
They also suggested that famous footballer David Beckham would be on ten pound notes, with Dame Helen Mirren on twenty pound notes.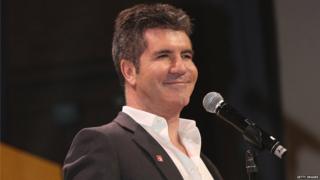 Getty Images
Left-footed football
Arsenal football club say they've come up with a new football that has been developed especially for those who are left-footed.
The club had help with their prank from footballers Santi Cazorla, Mesut Ozil Nacho Monreal and Hector Bellerin.
They claimed it significantly improved their performance with their left foot, but that it was a bit tricky to use with their right foot.
Hippo Cafe
The Metro newspaper posted that a new cafe, called the Happy Hippo Cafe, is opening in London, offering people the chance to play with two baby pygmy hippos whilst eating their lunch.
The pranksters also say that the cafe will host regular tournaments of the boardgame Hungry Hippos.
Pygmy hippos are endangered in the wild and are smaller in size than regular hippos.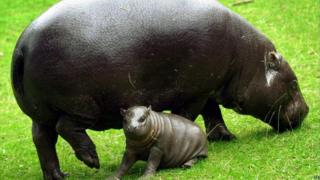 PA