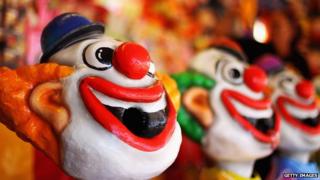 Getty Images
It's that day of the year again: April 1, when your friends and family might try and play a trick on you.
There are loads of joke stories in the news today, from bubble-wrap cars to Simon Cowell appearing on banknotes!

But we want to know if you managed to trick anyone for April Fools' Day?
Did you trick your friends or family? Or perhaps you were the one that got fooled?
Tell us your foolish tales and send us an email to newsroundcomments@bbc.co.uk with your stories or jokes.
I got fooled because our grandpa phoned us and said there was an airship flying over where we live. We looked up at the sky and saw nothing. It was an April Fools' Joke! I am going to see him later so I will trick him back!
Emilia
You must ask your parent, teacher or guardian for permission before you send us a question.
We may show your question on our website or in our TV bulletins. We'll show your first name and which town you're from - but we won't use your details for anything else.