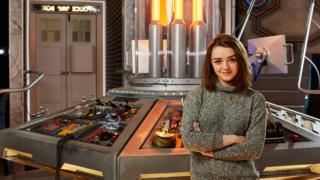 Actress Maisie Williams is set to appear in the new series of Doctor Who this autumn.
They haven't announced which part she will play yet but lead writer Stephen Moffet said: "She is going to challenge the Doctor in very unexpected ways".
He also suggested that her character might give The Doctor "the right sort of hell".
"I can't wait to meet the cast and crew and start filming, especially as we'll be shooting not too far from my home town," Maisie said.
Maisie and the Doctor will also be joined in the new series, by Horrible Histories star Tom Stourton, who will be a guest cast member.