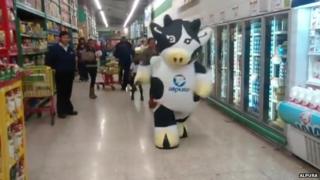 Mexican dancing cow goes viral
Shoppers at a supermarket in Mexico, got a bit more than they bargained for in the milk aisle.
The mascot for a dairy company has gone viral online after it's crazy dance moves were caught on camera and posted on social media.
The cow, called Manchas is well known in Mexico for its dancing, and often challenges other mascots to a dance off.
The videos of Manchas dancing in a supermarket aisles now have millions of views online.