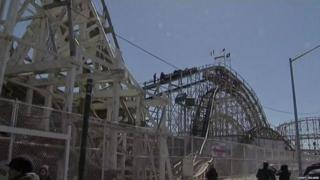 Dozens rescued from rollercoaster
Imagine getting stuck at the top of a rollercoaster.
Well, that's what happened to dozens of people in America.
The group were excited about getting ready for the big drop, at New York City's Coney Island amusement park, when the ride called the The Coney Island Cyclone broke down.
People working at the park helped all passengers to slowly walk down the tracks of the ride to safety.
No one was hurt.